Snow Shoe Men - "small, well-armed patrols ranging through the winter forest on snow shoes". ( The Minutemen. The First Fight: Myths and Realities of the American Revolution, by: John R. Galvin, at page 21)
__________________________________________
February, 2011
Snowshoe Men Patrol - Winter Recon
Event date: 2/21/2011 (completed): Snow Shoe Men Scouting Patrol. Event was a 2 man sharpshooter team / recon patrol (Sharpshooter and spotter / Green Mountain Boys Militia*). Started snowing. Weather was cold. Snow was powdery. This was a short distance snow shoe patrol. Engaged 100 yard target / hit. *Experiencing American History, the U.S. Constitution, and U.S. Bill of Rights through re-enactments, education and marksmanship.
Event date: 2/27/2011 (completed): Snow Shoe Men Scouting Patrol. Event was a 2 man sharpshooter team / recon patrol (Sharpshooter and spotter / Green Mountain Boys Militia*). Winds gusts 5 to 15 MPH. Target distance: 100 yards. Target size: 5". Shooting positions wearing snowshoes: Prone, Standing, and Kneeling. Snow approximately 3 feet deep and powdery. Weather started changing; sky turning black. It was a great time! Celebrating American Liberty. *Experiencing American History, the U.S. Constitution, and U.S. Bill of Rights through re-enactments, education and marksmanship.
Sample of another future planned event (two man teams): 2 mile round trip Rifle carry with backpack. Engage 100 yard and 200 yard targets.
Tactical Intervention Specialists Slip Cuff Quick Release Sling
Historical Background Information:
COLONIAL COMMANDOS




The nation's first elite forces helped tame an early frontier, but it's their winter footwear that marks their place in U.S. military history





By Bob Haskell




November 2010



Three hundred years ago, before the authors of the Declaration of Independence were even born, the American frontier was not out west but much closer to the Atlantic coast, in places like western Massachusetts and what is now Maine and New Hampshire.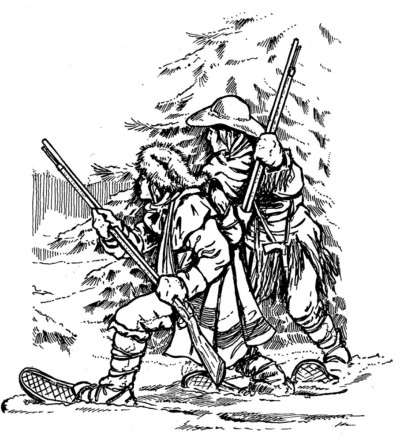 At the time, this was a harsh, unsettled land full of Indians, who, along with their French Canadian allies, aggressively contested—often preemptively—any hint of westward expansion by English colonists.

For their protection, many colonial villages formed militias. But settlements along New England's frontier required more than your average able-bodied men. They needed especially strong, fierce men who could muster quickly and take the fight to the enemy.

This need for elite forces spawned the creation of small units that became known as "snowshoe men." They patrolled the frontier, protecting settlements from attacks. They operated in all types of weather and conditions. This included winter campaigns, which were conducted on snowshoes, and the name stuck.

The snowshoe men were the nation's first commandos. They were rangers decades before Rogers' Rangers gained fame during the French and Indian War. They were minutemen long before the colonial Minutemen reaped renown early into the Revolutionary War.

But mostly they were Indian fighters, often turning the Indian's tactics against them. And they were paid bounties for a grisly product—Indian scalps, according to retired General John R. Galvin in his 1967 book
The Minute Men

.

"The colonists had learned … that the Indians were most vulnerable in the wintertime, because they disliked traveling in the bad weather and because they could be tracked over the snow to their unguarded villages," he wrote.

"With this in mind, the colonists decided to fight the Indians with small, well-armed patrols ranging through the winter forest on snow shoes [sic]."



SCALP HUNTING



Life on the New England frontier in the early 1700s was as perilous as it was in more storied parts of this country, such as Arizona and Texas and across the Great Plains, more than a century later.

In 1703, more than 500 Indians and a handful of Canadians ravaged New England settlements from what is now Portland, Maine, to Haverhill in Massachusetts in 1703. More than 160 settlers were killed or taken prisoner.

A year later, a force of 200 French, French-Canadian and Indian raiders attacked Deerfield, Mass., killing more than 50 men, women and children.

Massachusetts fought back. Leaders put a price on the Indians' heads, originally between 10 and 50 pounds for each scalp, according to Galvin. The price was eventually increased to 100 pounds per scalp, he added.

"The reward for scalps was more attractive than grisly to men of the western Massachusetts towns, hardened as they were by the ravages of the Indians, and there were many men anxious to take to the forest trails in this new occupation of scalp hunting," the general wrote.

Scouting parties began ranging the woods throughout the year. Snowshoe companies were formed of men who lived on the frontier and who could be called into service on short notice—the early minutemen.

Their area of operations was something of an arc across western and northern New England, extending from Springfield, Mass., to the Kennebec River in the District of Maine. Thirteen companies, for example, were ready to fight in the outlying regions of Worcester, Hampshire, Middlesex and York counties by 1745, and a line of fortifications were built to provide patrol bases, Galvin explained.

The region featured level land in the Connecticut and Merrimack river valleys and more mountainous, heavily forested terrain in what is now southern New Hampshire and western Maine. The snowshoe men patrolled when conditions allowed and hunkered down when the snow was too deep or the cold too bitter.

"Could not go out with snow shoes nor without. Snow deep 4.50 feet," wrote one Capt. Samuel Wright on Dec. 4, 1724, in his

Scouting Journal

that was displayed last winter at the Massachusetts Archives. "Came in being extreme cold," wrote Wright eight days later about his scouting around Brookfield, Mass.

British Captain John Lovewell of Dunstable, now Nashua, N.H., was one of the snowshoe men's fiercest leaders. He led two expeditions during the winter of 1724-25 that ranged as far north as the White Mountains, according to historic reports.

One raid, in February 1725, thwarted a suspected attack on frontier settlements by Abenaki Indians who were armed with French muskets. Lovewell's men killed and scalped 10 of the Indians, and they paraded the scalps through Boston that March.

Lovewell was killed by an Abenaki warrior in May 1725 during another expedition. He was 33. His wife and children were given tracts of land in New Hampshire, and Lovewell Mountain in that state and Lovewell Pond in Fryeburg, Maine, are named after that snowshoe man.



WRONG WAR



The snowshoe men accomplished their mission of subduing the Indians during the first half of the 18th century.

"Throughout this period the snowshoe men kept the northern and western borders relatively quiet," Galvin wrote.

"During the winter, little or no spoil was done on any of our frontiers: the enemy being so terrified by reason of snow-shoes (most of our men were skillful in) that they never considered coming in such a season after," stated colonial author Samuel Penhallow in his 1726 book

Penhallow's Indian Wars

.

Still, John Lovewell and the snowshoe men never gained the acclaim given to Robert Rogers and his Rangers for their exploits during the French and Indian War. By 1750, the snowshoe men had apparently faded into the forest of history.

There are a couple of reasons for this.

They were organized during a relatively minor and little-known war. Queen Anne's War did not result in a conclusive victory. The French and Indian War is far better known because it was a definitive victory for the British and ended France's control of Canada and the Midwest. Rogers' Rangers, who operated primarily in the Lake George and Lake Champlain regions of New York, fought for the winning side.

In addition, Rogers and the Rangers are still part of the Army tradition. Rogers is considered the father of the modern Rangers. His modified 28 "Rules of Ranging" are still followed by the 75th Ranger Regiment. The detachment of Rogers' Rangers stationed at Fort Detroit is in the lineage of the Michigan Army Guard's 1st Battalion, 119th Field Artillery.

The snowshoe men have their own legacy, however. Those companies are directly linked to the Massachusetts Army Guard's 1st Battalion, 181st Infantry, according to Leonid Kondratiuk, the Massachusetts Guard's director of Historical Services.

And Galvin and Kondratiuk have pointed out that the Minuteman concept as a well-trained and equipped light infantry force that could muster quickly and move out to face the enemy was based in part on what the snowshoe companies did to protect the English people in their new land.



Retired Master Sgt. Bob Haskell is a freelance journalist in Falmouth, Mass. He can be contacted via

[email protected]

.